I was reading
Scrapkitty's blog
today and she linked us up to this cool site where you can get a "photo montage" name from photos loaded on flickr!  Isn't that cool?  You can get yours
here
.  When you type in your name and your montage comes up, click on the letters and the image of that letter changes, so you can pick ones you like.  Then, below, are the links to the photos on flickr and below that the html code in case you want to blog yours too.  Thought that was a fun little Friday tidbit...
On to business...it's Sunshine time!  Here's the schedule of all the fun events that will be going on all week, starting this Sunday.  Make sure to stay tuned in the forums and on the
Sun blog
for all the details.  OK, here's the schedule, it's gonna be big girls!
And, if you participated in SWW last month, you have already seen this and probably have it!  It was our Wonder Girl mini-kit for June.  If you missed it, you are in luck!  The Wonder Girls are having a blog party!  And this is the kit we are giving away!  So, make sure to visit the
Sunshine Blog
at 8am Saturday for all the links to the Wonder Girl blogs, then go hopping and collect all the pieces.  Hope you enjoy it, we sure had fun creating it!  Here's a preview of the whole kit...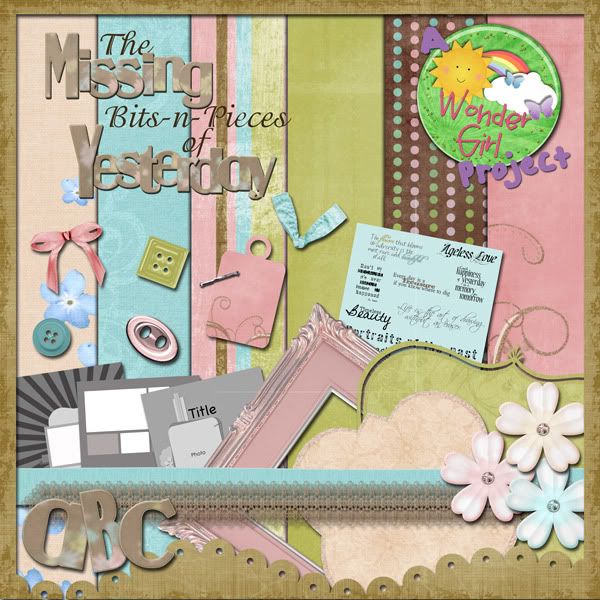 And for my portion, I have three download links:

And, last but not least, as promised, I separated the layers of my template from yesterday into PNGs.  Link is below...
As usual, no file or link sharing please, just send them here!
That's it for me, I am off to scrap a little, yay!!  See you over at Sun and have a great weekend!