Hop on board, choo, choo!!!!
But before you go to the next stop...
check out all the awesome fun
going on at Scrap Matters this weekend...there's a sale, games, a chat with prizes and a FREEBIE collab kit with a $15 purchase...and with all the awesome grab bags, that won't be hard to spend!
Also...check out this awesome freebie from Chelle...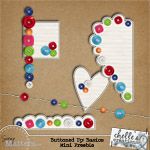 Want it? Become a
Chelle's Creations Facebook Fan
today and receive it as a gift!
If you are following the train in order, you should have come from
Denise's blog
and received an awesome QP.
The train started at the
SM Blog
, so if you get lost, go there:)
Here's my car on the train...
Link has been removed, check the SM store soon for the blog train items to be sold:)
Ok, you should be heading to
Kim's blog now
for the next stop on the choo choo...
have a great weekend and Happy DSD!